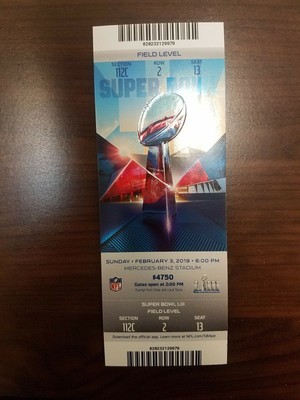 [+] Click for Bigger Image
TICKET SUPER BOWL LIII 53 New England Patriots vs Los Angeles Rams 2/3/2019
($295.00)
Located in Brooklyn, New York (112**)
⇨ See Details!
---
Hello and thanks for looking!

This listing for a used ticket from

SUPER BOWL 53: New England Patriots vs. Los Angeles Rams

The ticket in the picture is one of 2 similar condition that I have for sale.
Great CONDITION. It was in a ticket holder for the entire process, so it was never folded or bend or creased. Nothing that damages it's appearance. 
From the club seats, silver color!

I would consider it Great CONDITION, as the ticket is very solid. PSA would probably great this as "good condition" because they care if you breathe on the ticket. Please don't expect a PSA grade of 10- it's not.
You can see some other tickets available online that were obviously from someone VERY drunk at the game folded and ruined- but not these. These were ALWAYS in holders.
It's very hard to get a mint condition this year, because the tickets were printed on foil, which is EASILY scratched.

If these are above your budget, I do have some other tickets from the game is great condition, please see my other listings! This is for the collector that's looking for the condition to be the best.

Great for framing! Great for all NFL collectors!

Shipping is free. I will ship the ticket via FedEX shipping, and I will pack it will between cardboard to avoid shipping damage.

When you're buying used tickets, it's always best to look at a sellers feedback. And mine is perfect 100%- it's because I take good card of my tickets, and I make sure to be as honest as I can in the listing.