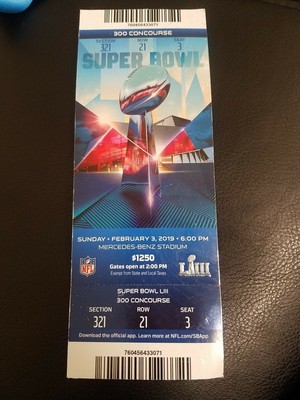 [+] Click for Bigger Image
TICKET STUB SUPER BOWL LIII 53 New England Patriots vs Los Angeles Rams 2/3/2019
($149.00)
Located in Brooklyn, New York (112**)
⇨ See Details!
---
Hello and thanks for looking!

This listing for a used ticket from

SUPER BOWL 53: New England Patriots vs. Los Angeles Rams

The ticket in the picture is one that I already sold, and the 4 listed are actually in BETTER condition than the one in the picture.
Each ticket has slight scratches from normal use. It was in a ticket holder during the game, so it was never folded. Great condition.

I would consider it used great condition.

Great for framing! Great for all NFL collectors!

Shipping is free. I will ship the ticket via FedEX shipping, and I will pack it will between cardboard to avoid shipping damage.

When you're buying used tickets, it's always best to look at a sellers feedback. And mine is perfect 100%- it's because I take good card of my tickets, and I make sure to be as honest as I can in the listing.