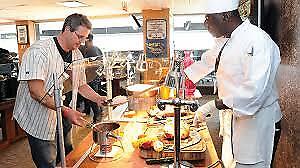 [+] Click for Bigger Image
*1 OR 2 STADIUM CLUB PASSES* MIAMI MARLINS @ CHICAGO WHITE SOX TUES 7/23/2019
($1.11)
Located in Chicago, Illinois (60601)
Go To Store!
---
You are purchasing admission passes to the Stadium Club at Guaranteed Rate Field formerly US Cellular Field aka The Cell.  
The Stadium Club is a restaurant and full service bar, operated by the Levy Group, located on the club level down the first base line overlooking right field within Guaranteed Rate Field and is open before, during and after every baseball game.  The Stadium Club offers menu ordered food options including appetizers, sandwiches, great deserts and even a buffet.  From within the Stadium Club you can watch the ballgame. When entering the Stadium Club you will be asked to present a credit card to which you can charge your food and/or drink purchase.  This purchase does NOT include the purchase of a game ticket to the Miami Marlins vs Chicago White Sox baseball game, so this purchase of just a Stadium Club pass will not allow you access into Guaranteed Rate Field.  If the game is a rain out or postponed for other reasons, follow-up with the White Sox on the rescheduled date will be necessary and the Stadium Club pass will be honored for re-admission to the rescheduled date.
Upon purchase, the buyer will be required to remit payment immediately via PayPal (electronic payment).  The buyer will receive their purchased Stadium Club passes by e-mail to the e-mail address of the buyer's PayPal account via the Chicago White Sox/Ticketmaster transfer system - the safest and most secure for the buyer.  
An Apple phone or competitor android phone product is needed to display passes for scanning as the ability to print passes is no longer available.
There are up to 2 passes available for purchase (
1 pass - $1.11, 2 passes - $2.22)..
 Change the quantity at the top of this page to the number desired for purchase.